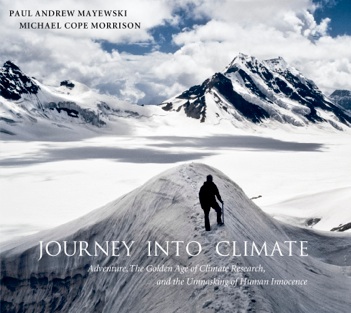 Authors Paul Andrew Mayewski and Michael Cope Morrison tell their personal experiences going to some of the Earth's most remote and challenging places, the scientific discoveries they made there, and the journey that they, and the scientific community, made from a "gradualist" viewpoint - thinking that humanity was an inconsequential observer in a slowly changing climate - to the realization that we are deeply and irrevocably involved in the short- and long-term fate of a temperamental climate capable of dramatic changes in a matter of only a few years.
They also tell of discovering the worldwide reach of industrial emissions; their effects on climate, civilizations, ecosystems, and our individual quality of life; the remarkable success of the Clean Air Act and the Montreal Protocols; and how some of the effects can clear up in weeks or month's and others only over centuries.
A selection of the impressive images from the book will be shown mounted on fotoflōt in San Francisco's Canessa Gallery in July 2012 and can be purchased here. High-quality prints displayed without glass, which eliminates reflection and glare. Images jump off the wall with color and detail. And because the system works without frames or matting, the image size increases while occupying the same amount of wall or desk space.
Hanging is a snap - literally. You just attach the mounting bracket to the wall using the included hardware, align the magnetic cups on the back of the print to the magnetic discs on the mounting bracket, and - snap - your fotoflōt print is mounted firmly in place.
Shipping to domestic locations via USPS Priority Mail is free. Select images from the left or got to the overview page that shows all images.
10% of profits from print sales goes to support the Climate Change Institute at the University of Maine. For more information, please visit JourneyIntoClimate.com.